Super Voltage Flashlight Stun Gun 3.6 Million Volts 990 only!!! FREE DELIVERY
Price

P

990.00

Classification

For sale

Classified ID

4254

Category

Buy and Sell

Location

Quezon City

---

---

The Cyber Shop

Company
The Cyber Shop
Website
http://www.cybershop2000.com
Address
Quezon City,Manila
Contact
3304496 . 09212666606 . 09154717917
Description
---
The Stungun flashlights are 3.6 Million Volts and are made of reinforced fiberglass plastic. A moderate blast of 1 to 3 seconds will cause an attacker to fall to the ground and result in minor mental disorientation. A full charge of 3 to 6 seconds will fully immobilize the attacker, in most cases causing a loss of balance and severe disorientation, putting them on the ground, dazed and weak for several minutes.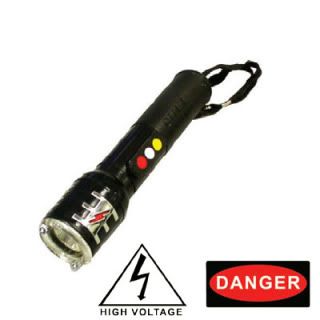 JA 911 Self-defensive Flashlight / Stun Gun (3600k Volts)
Description:
* On/off switch
* 36000k Volts
* Easy and safe to use
* Ensures no permanent damage
* Creates a bright, audible crackle
* Immobilizes and neutralizes potential threats
* Size :32*182mm
Package Included:
* 1 x JA 911 Self-defensive Flashlight / Stun Gun (3.6 million volts)
* 1 x Nylon Case
1. Source voltage: 6 V
2. Output pulse voltage: 36000k Volts
3. Size: 32*182(mm)
Self-defence product /Stun gun
This self-defensive flashlight has several special functions such as high voltage electric shock and strong illumination. It is an ideal self defense device for law enforcement, security guards and civilians due to their extended reach and power.
Self-defensive flashlight is made of ABS engineering plastic and alloy metal with a high voltage generator and a built-in nickel-cadmium rechargeable battery. It has an advanced electric pulse technology.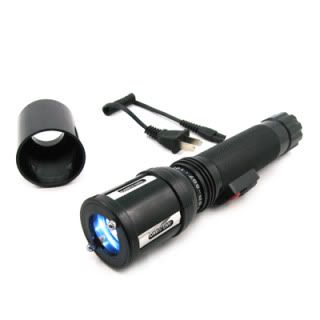 A Complete Guide To Stun Guns

What is a Stun Gun?

A stun gun is an electrical non-lethal self-defense device that uses high voltage to stop an attacker. Touching a person with the prongs on the stun gun quickly immobilizes the attacker. However, because the amperage is very low, no serious or permanent injury is inflicted.
How does a stun gun stop an attacker?
Stun guns are designed to key into the nervous system. They dump their energy into the muscles at a different frequency than the pulse waves emanating from the brain. The pulse waves coming from the brain and those from the stun gun collide at the nerve synapse` which is a type of complex processing switch adjacent to each muscle group. The resulting energy collision makes it difficult for an attacker to move or function. This cause disorientation and lose of balance and leaves the attacker in a passive and confused condition for several minutes.
How long does it take to immobilize someone with a stun gun?
As a general rule, a one-half second contact from a stun gun will repel and startle the attacker, giving some pain and muscle contractions. One to two seconds will cause spasms and a dazed mental state. Over three seconds will cause loss of balance and muscle control, mental confusion and disorientation.
However, don`t think about how many seconds you should hold the stun gun to your attacker. Think about it this way. Throw out what the books say and the online information you have read about stun guns. You should hold your stun gun to the attacker until they drop and you can get away and call the police, whether that may be one second or six seconds.
What is the 3 000 000 volt model?
Look at it this way, both stun guns will render your assailant helpless using non-lethal voltage from the stun gun. Consider this. A stun gun is effective on many parts of the body, give yourself the best chance to get the better of your assailant. Hold the gun on a body part that has a lot of surface area, such as the chest, abdomen, groin, kidneys or back.
What type of battery is in a stun gun and how long will the battery last?
Stun guns are powered by an internal rechargeable battery. Battery life depends on the stun gun model and frequency of use.
Will test firing the stun gun damage the device?
Test firing your stun gun is recommended to ensure battery life as well as knowing you stun gun.
However it is recommended not to test fire the stun gun more than 3 seconds. Firing the stun gun in the air over 3 long can damage the stun gun because the stun gun is not grounded. This does not apply when you are applying the stun gun to an assailant for then the stun gun is grounded.
WARNING:KEEP AWAY FROM THE REACH OF CHILDREN
LOVE HER--BUY ONE FOR YOUR GF!
MORE TO BUY!!!
Metro Manila Payment:
Provincial Payment:
Visit Website:
Like us on:
Disclamer
---
HanapTayo.Com takes no responsibility for the content of the ads, promises made, or the quality/reliability of the product or services offered in all ads. You hereby acknowledge that any reliance upon any materials shall be at your sole risk.