Spy Watch Camera 4GB HD Waterproof 2990 only!!! Free Delivery
Price

P

2,990.00

Classification

For sale

Classified ID

4797

Category

Buy and Sell

Location

Quezon City

---

---

The Cyber Shop

Company
The Cyber Shop
Website
http://www.cybershop2000.com
Address
Quezon City,Manila
Contact
3304496 . 09212666606 . 09154717917
Description
---
The stylish black face of this waterproof spy watch conceals a recorder capable of gathering photos, audio and video data, as well as a more ordinary mechanism that keeps track of the time.
The Waterproof Video Spy Watch records video and photos @ 1280 x 960, up to 30 fps depending on the lighting. Images and sounds are stored safely with in the 4 GB internal memory, so there's no need to fumble with SD cards.
This spy watch is designed to be worn, and you record by turning your wrist toward the subject. It's easy to wrest your arm on a counter or table, and get great recordings. The camera is mounted upside down, so it has to be on your wrist, pointing at your subject.
Turn video recording watch on by pressing the on button for 2 seconds, then the record button for 2 seconds, and you are filming video.
It has a black rubber wrist strap with red stitching and is not too big and not too small. Click the thumbnail picture up by the price to see 4 more pictures, one with the watch on an average mans arm.
When your surveillance mission is complete, you can quickly upload your files, and transfer them easily to a computer via the included USB cable.
Best of all, the Waterproof Video Spy Watch is water resistant to up to 30M.
Features:
New Stylish design allows the watch to be worn in any situation
Pinhole camera helps to ensure your footage remains covert
Record video for 50 minutes
Time and Date Stamp
4GB Internal Memory
AVI Format video
Technical Specs:
Resolution: 1280 x 960 @ up to 30fps
Still Images: 3264 x 2448
Power Supply: Internal Li-Ion Battery
Memory: 4GB Internal Memory
Includes:
1 Watch WP-WATCH-DVR
1 USB Cable
1 AC Adapter
1 Software Disc
1 Instruction Booklet

Waterproof Video Spy Watch Operating Instructions:
Turn on the Waterproof spy watch by pressing the top button on the right side for 2 seconds. A solid blue status light will appear at 6pm, which is stand-by mode.
To take a photo, push the Start/Stop button briefly. The camera will take a photo and the light will blink off, then back on to solid blue. Take additional photos by pushing again.
To take a video, push the Start/Stop button for 2 seconds. The status light will turn red and blink 3 times, and turn off. You are recording video until you stop it by pushing the button again, or the battery running out of juice.
To turn off the spy watch, press and hold the On/Off button for 2 seconds and the status light will turn off.
ARRIVAL !!!
==============================================================
4GB Video resolution:1280*720 Photo resolution: 1600*1200 (WATERPROOF)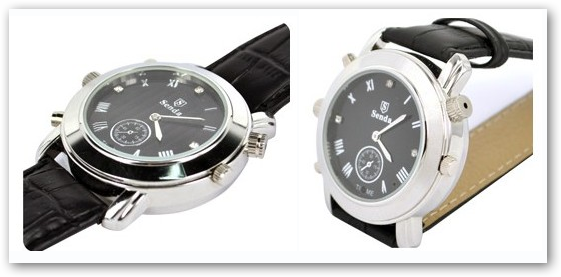 ==============================================================
4GB Video resolution: 640*480 (WATERPROOF)
MORE TO BUY!!!
Metro Manila Payment:
Provincial Payment:
Visit Website:
Like us on:
Disclamer
---
HanapTayo.Com takes no responsibility for the content of the ads, promises made, or the quality/reliability of the product or services offered in all ads. You hereby acknowledge that any reliance upon any materials shall be at your sole risk.